The revolution of Women in the NFL
"We've received resounding support from both the league office and club level," Rapoport told Sporting News in a recent telephone interview.
As part of her role as the NFL's director of football development, Rapoport is tasked with helping ensure females are afforded chances to prosper at all levels in a male-dominated league.
By the NFL's count, 55 women are now working for teams in football operations. This includes what will be a record-high four female coaching interns in NFL training camps — Odessa Jenkins (Atlanta), Phoebe Schecter (Buffalo), Katie Sowers (San Francisco) and Collette Smith (New York Jets).
Samantha Rapoport at the 2017 Pro Bowl in Orlando, Fla., takes a photo with 220 female tackle football players who attended the Women's Careers in Football Forum.
One of the speakers at this year's event was Bills co-owner Kim Pegula, who has proven a strong NFL advocate for female advancement.
Nineteen of the 220 women who attended the summit have landed football-related internships or jobs at the high school, college and pro levels.
"A lot of women have applied for jobs and didn't get them," Rapoport said. "That speaks to the person who's best available being hired.
"Not everyone is going to be the best. But if you include the whole pool of candidates in the hiring process, you're going to land on women who are best qualified for the job."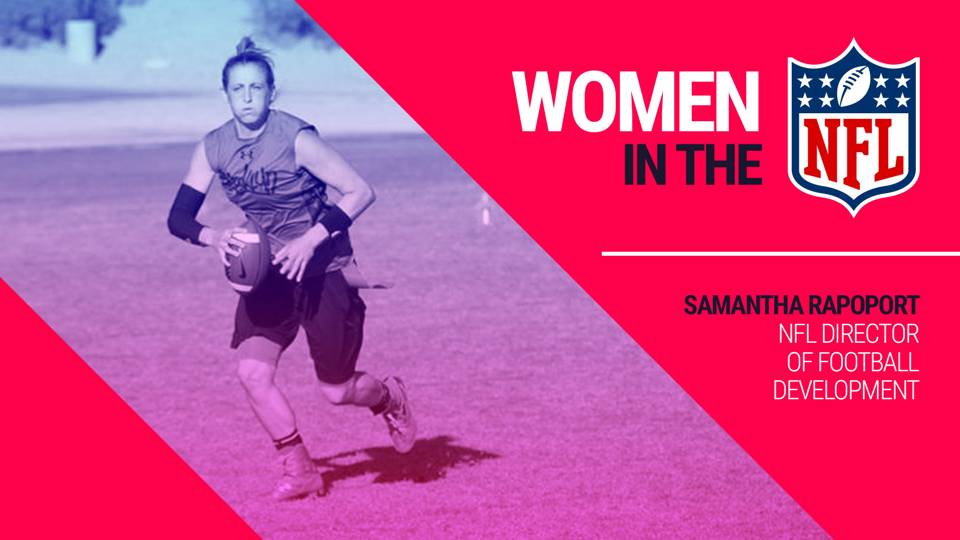 At the inaugural 2016 Women's Summit, NFL commissioner Roger Goodell announced expansion of the "Rooney Rule" to require at least one female is interviewed for vacancies inside league headquarters.
While those hires spurred headlines highlighting the strides women were making, they also generated extra pressure and attention for those involved.
---